Investing in Submarine Cable Infrastructure can strengthen Africa's Internet Resilience
Hosting content locally, educating regulators and policy makers on the importance of cross border interconnectivity and investing in Internet infrastructure are some of the solutions advanced on how to improve Africa's Internet reliability and resilience during cable cuts at the latest session of the Virtual Peering Series-Africa.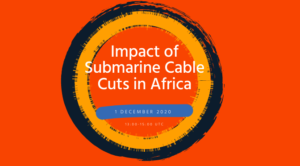 Held on December 1, 2020 under the theme the "Impact Submarine Cable Cuts in Africa", the session discussed how to detect and fix submarine cable cuts.
In January and April this year there were cable cuts on the West African Cable System (WACS) and South Atlantic Telecommunications cable no.3 (SAT3) submarine cable systems, which led to service degradation or complete outages in parts of West and Southern Africa. The impact was felt throughout the region, as the capacity was rerouted to other submarine networks in the Eastern Seaboard. Heavy rains in the Congo region led to strong currents on the Congo River and destruction of the WACS cable.
An expert presentation which sought to shed light on what happens when there is a cable cut, and why it takes a month or more to locate the fault and restore services kicked off the session. Clementino Fernando, Telecommunication engineer with Angola Cables, took the participants through the process of fault location and restoration.
Cable cuts in the high seas are rare. Companies plan for one or two cuts in a year and they rarely happen. Most of the time the problems are with the terrestrial fiber network and in shallow waters because of coral, rocks and anchoring ships. Submarine cable operators have invested in vessel monitoring systems that alert on vessel routes, ensuring they don't anchor on cables. When a cut happens, it costs the submarine company $ 2 million or more to repair, depending on the weather conditions in the high seas. The process can take a month or two.
When a cable system is down, the network capacity has to be rerouted through other cables, whether through prearranged orders or emergency requests, which can be hard to put in place, because the cuts are not often.
A panel discussion followed the presentation, during which experts gave more insights on how to deal with submarine cable cuts. During the discussion, Ben Roberts, Chief Technology Officer (CTO) at Liquid Telecom, said that during the cable cut, most of the capacity from Southern Africa was rerouted through Eastern Africa, because Liquid has redundancies on four submarine cables. Liquid also got more clients, who signed short term contracts, taking advantage of the surplus capacity.
Redundancy according to Telegeography is a safety approach cable companies use which enables them to spread their networks' capacity over multiple cables to ensure that there are no disruptions when accidents happen. If there is damage on one line, they are able to divert to another line, while working to restore services on the damaged line. Liquid Telecom has redundancies on four cable lines. To reach that agreement, it got more clients to sign short term capacity contracts.
Mark Tinka, Head of IP Engineering at Seacom, said that submarine cable cuts are expected, and it could happen to any operator. When it happens, the engineers from various operators talk to each other and find emergency solutions to ensure minimal downtime, but it is not always simple, because some consortium cable operators have to consult all members before making any emergency provisions.
During the outage, the Democratic Republic of Congo experienced high latencies, as the capacity was rerouted to Angola, Brazil to the US and back. Mohamad Ibrahim, from United SA in the DRC, said some of the clients were down as they explored alternatives to WACS.
Most of the terrestrial network infrastructure in the DRC has degraded over the years, which made the latencies and service outage worse during that period.
The discussions underscored the importance of investing in more infrastructure in order to reduce the effects of cable outages, by hosting the content locally, educating the regulators and policy makers on the importance of cross border interconnectivity and how it improved the reliability and resilience of the Internet infrastructure.
The discussions were also punctuated by a Telegeography presentation, which showcased Africa's Internet capacity growth history. There are 64 cable systems active in Africa. Amongst them, 36 connects Africa to Europe, while 14 is intra-African. Of the 36 systems connecting to Europe, 21 are from North Africa while 15 are from Sub-Saharan Africa.
In terms of landing stations, Africa has 32 countries with a coastline. Ghana, Kenya, Nigeria and South Africa all have 5 or 6 landing stations but with limited number of cables extend all the way from South Africa to Europe. Only 2 exists on each side at the moment.
This means that, as it was demonstrated during the cuts, the existing routes are not very resilient and highlighted the lack of redundancy and diversity of routes.
Overall, experts acknowledged that the continued investment in data centers, global caches, 4G, 5G and terrestrial fiber networks has improved the performance of the Internet and the outages are not felt as deeply as they were ten years ago.
These investments in infrastructure need to continue if the continent wants to build a robust and resilient Internet ecosystem.