Increased demand for connectivity, rising use of e-commerce services, adoption of collaborative working applications, and a sudden appreciation of opportunities provided by digital technologies. These are some of the highlights from the first Virtual Peering Series-Africa titled, Effects of COVID-19 on the African Internet, which was held on 1st September 2020 and organized by the Internet Society and Af-IX.
These issues were discussed during the inaugural Virtual Peering Series, after the Africa Peering and Interconnection Forum (AfPIF) was cancelled. AfPIF was to be held from 18-20 August 2020 in Kigali, Rwanda, but after COVID-19 was declared a pandemic, the physical public meeting was cancelled for safety reasons.
The Virtual Peering Series-Africa is therefore a collection of online events organized as a result of re-imagination, by the peering community that meets at AfPIF, on how to stay connected and engaged virtually.
The monthly events will highlight and analyze key issues and recent developments in Africa's Internet ecosystem. Led by the AfPIF Program Committee, the goal of the Series is to promote awareness, foster collaboration, and develop Africa's peering and interconnection ecosystem in order to achieve the vision of sourcing 80% of Africa's traffic locally. The monthly virtual sessions have different topics and there will be peering introductions, where networks introduce their peering policies.
Hisham Ibrahim, External Relations Manager, RIPE NCC moderated the session and panelists included Kyle Spencer, Executive Director, Uganda Internet Exchange Point and Co-Coordinator, African IXP Association, Brett Lewan, Manager, Interconnection Strategy, Microsoft, Dave Omoregie, VP Technology Operations and Supply Chain, Konga Online Shopping Ltd and Ben Roberts, Group Chief Technology and Innovation Officer, Liquid Telecom.
In Uganda, Kyle noted a peak traffic decrease from 11 Gbps to 8 Gbps during the initial lockdown at the end of March followed by an accelerated gradual increase as restrictions eased, reaching 13 Gbps by August. Uganda, Rwanda, and Nigeria witnessed a fall in aggregate traffic exchanged, at the break of COVID-19 in the continent, as people adjusted to working from home. Many people were used to fixed Internet at their offices, where they would access bandwidth hungry applications. In contrast, South Africa saw a spike in capacity, because the industries and the people were prepared to work from home.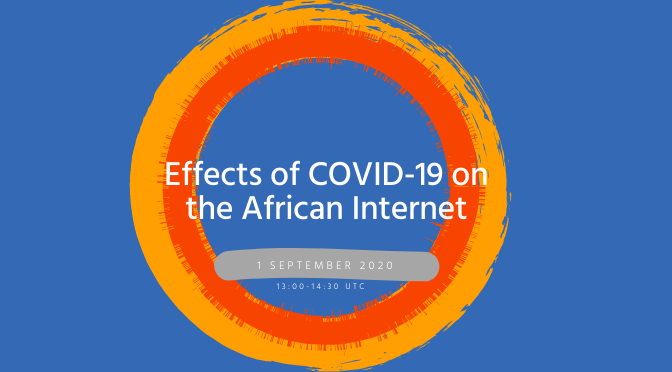 The transition from fixed office Internet to data bundles provided by mobile broadband led to the dip, but mobile operators reduced the cost of Internet bundles, as a result of people losing their disposable income.
In the shift to working from home, Microsoft has seen an increase in use of cloud services, especially Microsoft Teams and Office. Brett envisages that Africa will continue with the usage of Microsoft products. After the growth in usage for collaborative apps for work from home and education, Brett noted that a robust and expansive network is needed to get the traffic close to the end users. Microsoft is looking to add more peering locations and POPs to add to the existing networks in Nairobi, Johannesburg and Lagos.
E-commerce services have been the biggest beneficiaries of growth, as people explored ways to minimize contact. Konga, one of Africa's largest e-commerce sites saw growth in visits as people started buying groceries, drinks, masks, and sanitizers. The COVID-19 period had a downside for merchants, as limitations in travel meant limited stock. For Konga, Dave said they were able to use available stock and also get the merchants to deliver the stock to the warehouses.
For Liquid Telecom, the COVID-19 period has exposed new opportunities in education, and they have joined UNICEF and ITU under the GIGA initiative. In his presentation, Ben said the GIGA initiative will connect all schools in the world. Kenya and Rwanda are part of the pilot initiative.
In Kenya for example there are 6000 schools that are less than 1km from a Fibre and 75% of these are rural or peri urban. We feel the investment to connect schools is a big building block in high speed affordable broadband for all, Ben said.