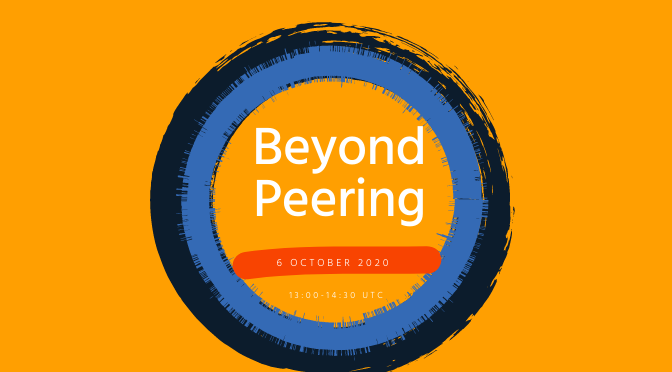 The second session in the Virtual Peering Series – Africa addressed vital challenges that Internet Exchange Points (IXPs) are grappling with, as they seek to grow membership, provide faster connectivity that lowers costs to end-users, and be sustainable in the process.
Peering has underlying costs
To make a business case for connecting to an IXP, the community needs to understand the basics of peering. Susan Forney, Network Engineer at Hurricane Electric said while peering is free, there are underlying costs.
In her "Peering Economics" presentation, she advised IXPs to think carefully about costs such as the network devices, manpower, energy, office space or data center costs, if the IXP is hosted there.
Before peering, IXPs need factor all the costs, while developing their peering strategy. They also need to provide good customer support, be responsive when notified of an issue and monitor port usage to avoid packet losses.
Growing IXPs
Nico Walters, Global Innovation and Information Manager at CMC Networks, a global telecommunications carrier in Johannesburg presented why peering matters and how African IXPs can continue growing their value to members.
IXPs bring networks together as a platform to share values. They are trusted advisors to members and can broker relationships, especially for new members or new market entrants.
To continue growing and providing value, Nico said African IXPs will need to attract more local networks, offer peering service automation, implement cloud exchange services and provide live network analytics that enables faster decision making.
How to take advantage of telecom resources
A way to grow IXPs is by providing application programmable interfaces (APIs). As Mark Daley, Director, Digital Strategy and Business Development at Epsilon Telecommunications explained, this function is in line with business growth within the technology industry, driven by programmable telecoms.
In his presentation on the emergence of programmable telecoms and its impact on peering, he said, telecoms are evolving into a resource that IXPs can take advantage of its programmable functions and automation services to expand the solutions they offer to members.
Daley cited APIs as a telecom toolset IXPs can use for growth and development. Currently, there are seven sets of APIs that have emerged as telecom industry standards; Telco APIs, Infrastructure as a Service, Platform as a Service, Software as a Service, Vendor APIs, Independent APIs, and Community APIs. IXPs with APIs can benefit different businesses, as more developers seek to access different kinds of information and services.
What is the IXP path to growth? Daley said it is possible to grow, if the IXP develops deeper integration with other systems and across ecosystems, developing interworking APIs for automating peering functions such as configuration, on demand remote peering, revised commercial and service models and process function visibility.
To demonstrate how IXPs can evolve their operations using APIs and programmable telecoms, Daley explained how LINX is making use of open IXP API to automate service requests for new customers and additional service requests. The last presentation was a demo of the open IXP API.
Evolution of IXPs in changing times
Mike Hellers, Product Development Manager, LINX, spoke about the evolution of IXPs, and how to change with the trends.
He identified a significant increase in the use of public and private cloud as one of the ways traffic has grown, with a lot of demand from companies wanting to join IXPs directly. Connecting directly to cloud providers allows them to reach end-users faster. Exchange points are well known and trusted in providing such connectivity, which can lead to growth in content.
In summary, Hellers sees increased diversity of connectivity needs, simplified, automated, and cost-efficient operations as key to IXP growth.