Executive Director: Kenya Education Network (KENET)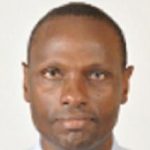 Professor Meoli Kashorda is currently the Executive Director of Kenya Education Network (KENET), the National Research and Education of Kenya providing a broadband platform for universities and research institutes.
He is also a professor of information systems at USIU University in Kenya with research interests in measuring the Institutional ICT readiness in developing countries, telecommunications regulation and broadband Internet as an innovation platform.
He previously served as dean of the USIU business school in Nairobi and a telecommunications expert in the Communications Appeals Tribunal of Kenya. He holds a BS degree in Electrical Engineering from University of Nairobi and a PhD in Electronic Systems Engineering from University of Essex in England.