VP Corporate Development: Interxion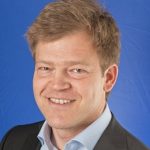 Wouter van Hulten is VP Corporate Development at Interxion, a leading carrier neutral data centre operator in Europe.
Wouter has been with Interxion from the start in 1998 until 2002, and then rejoined the company in 2008.  Over the years, he was involved in various industry initiatives: in 2000, he co-founded the Swiss Internet Exchange in Zurich, he contributed to the development of France-IX in Paris in 2009, and co-founded the European Data Centre Association in 2012. From 2003 until 2006, he was business manager for Microsoft's Service Provider business in the Netherlands. He holds a degree in Software Engineering from Imperial College in London, and an MBA from INSEAD in France. Wouter grew up in Mali and Burkina Faso, from 1977 to 1984, when the telex was still in use and the first fax machine became available.