Senior Development Manager for Africa: Internet Society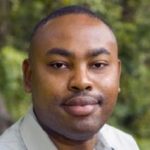 Michuki Mwangi joined ISOC in April 2008 as Senior Education Manager working with the Education team to promote Internet growth and sustainability in the developing world.
Michuki has long been active in the African and global Internet communities, having been centrally involved in key infrastructure developments, technical coordination activities, and policy-making forums.
Before joining ISOC, Michuki was an Internet technology consultant. He previously served as the Administrative Manager at the .KE registry (KENIC) and serves as president of the African Top Level Domain (AfTLD) Association and Chief Technology Officer (CTO) of the Kenya Internet Exchange Point (KIXP), both in a volunteer capacity. He facilitated the anycast deployment of the .COM, .NET, F, and J root servers in Kenya, as well as other key infrastructure deployments in Africa.
He is active in the African Network Operators Group (AfNOG), the Country Code Name Supporting Organization (ccNSO) of ICANN, AfriNIC (the Regional Internet Registry for Africa), and several other local and international technology groups. Michuki has also been involved in the Internet Governance Forum (IGF) discussions since the World Summit on the Information Society (WSIS) meeting in Tunis.
Michuki holds a diploma in computer analysis and design from Data Center College in Nairobi, Kenya. He has also received additional training in Scalable Network infrastructure and services at AfNOG. In 2006, he was selected as an ISOC Fellow to the IETF (attending the 66th IETF meeting, in Montreal, Canada).