Group Head of Network Engineering, Liquid Intelligent Technologies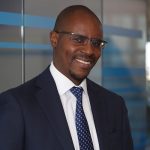 Mathew Chigwende is the Group Head of Network Engineering at Liquid Intelligent Technologies. He has over two decades in Technology Service Provider Industry. He started as a graduate Engineer at TelOne in Zimbabwe and later joined Econet as Technical and Support Manager for its Ecoweb Brand – responsible for building the network into one of the biggest ISPs in Zimbabwe. In 2006, Mathew moved to UK and joined BT as a Project Engineer working on MPLS and Financial Extranet projects. In 2009, Mathew joined Liquid Telecom in London to spearhead an exciting new project involving connecting the vast fibre builds into a pan African MPLS network.
As Liquid's Group Head of Engineering, Mathew is responsible for undersea and cross boarder networks, international core network build, and group wide network project implementations. Mathew was educated at University of Zimbabwe where he obtained a BSc in Engineering and later an MBA. Mathew is married and lives with his wife and 3 children in Kent, UK.
He is a member of AfPIF Program Committee.