Research Engineer: AFRINIC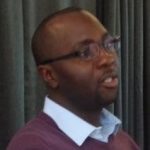 Josiah Chavula is a Research Engineer at AFRINIC Ltd.
He recently completed his PhD studies at the University of Cape Town, where his research focused on Internet performance and traffic engineering in Africa, especially among the National Research and Education Networks (NRENs). He is currently interested in Internet measurements research, primarily focusing on the impact of interconnection, routing strategies and middle-boxes on end-to-end performance, as well as on adoption and performance of IPv6 in the AFRINIC region. He obtained his MSc degree in Networking and Internet Systems from Lancaster University, England, as well as a Bachelor of Science degree in Computer Science from the University of Malawi.