External Relations Officer – Technical Advisor: RIPE NCC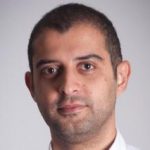 Hisham Ibrahim is the External Relations Officer – Technical Advisor (Middle East Regional Program Manager) at the RIPE NCC. (in charge for training programs, technical support and relations with RIPE NCC members and the MENOG community). Hisham brings over a decade of exercise in the field of Internet technology and its governance.
Prior to joining the RIPE NCC-ME office, Hisham held a number of senior technical positions including, IPv6 Program Manager at AFRINIC (2010-2014) and Network Operations Centre (NOC) Team Leader at the Egyptian Ministry of Communications and Information Technology (2005-2010).
Both from a technical and policy background, Hisham is active on several committees in various Network Operator Groups (NOGs), peering forums, IPv6 task forces and forums in Africa and the Middle East.
Hisham has a MSc. in Electronics and Communications as well as an MBA in marketing.
Hisham is a member of AfPIF Program Committee.