Managing Director: France-IX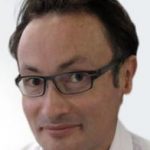 Before being appointed as the Managing Director of the Internet Exchange point France-IX early in 2010, Franck Simon was the Technical Director of RENATER, the French academic network, where he worked for almost 15 years.
As part of his duties at RENATER, Franck was managing SFINX, the first Internet Exchange Point created in France, for more than 10 years.
Franck has extensive experience in wide area networks (WAN) and backbone operators. He has unique insight and awareness of the strategies and policies for interconnectivity between operators as well as the context of peering in France and throughout Europe.