Co-founder, Director of Business Development: Workonline Communications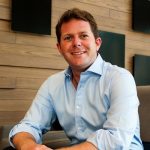 Edward is an entrepreneur with over 10 years of experience in the Information Communication and Technology (ICT) sector.
He has held directorships of several companies across various industries, including the telecommunications, information technology, marketing, automotive and music industries. Workonline Communications was co-founded by Edward in 2006. The company is a Network Service Provider (NSP) offering wholesale connectivity solutions and specialised enterprise services in sub-Saharan Africa.
Edward's core skills are recognizing opportunities for innovation and business development. He is passionate about the positive impact that ICT development is having on Southern Africa and continuously strives to innovate around internet connectivity – pushing his company and the industry to discover more cost efficient methods, better use of technology or drive improved connectivity solutions.
Edward is a passionate believer in the difference the internet can make to education in developing markets, and the impact thereof on an economy, and sees it as a first step towards lifelong learning and entrepreneurship. Driving down the cost and extending the reach of internet access for education is a topic he vehemently advocates. This may stem from him leaving school at 15 and kicking off his career shortly thereafter when he started his first of many IT businesses, a web development company. Within 2 years, the success of this business venture paved the way for the development of additional businesses.
Edward's wealth of experience through the learning from both his successes and failures makes him a true business leader with valuable knowledge on what it takes to succeed in a niche market within a highly competitive, fast-paced and constantly evolving industry. His passion for education is evident as a strong advocate for IPv6 adoption across southern Africa, with Workonline Communications offering free 100 Mbps IPv6 transit to encourage and support adoption.