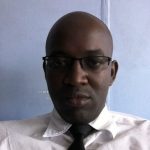 Barry Apudo Macharia is the Technical Manager at Telecommunication Service Providers Association of Kenya (TESPOK) running KIXP in Kenya.
With over 12 years experience in the IT industry, he worked with a leading International ISP, rising to various positions while actively participating in the design and implementation of various projects for the company.
His responsibilites include implementing the company's technical vision and leading all aspects of the organisation's technology development. As IXP's top technology executive, he plays an integral role in strategic direction, development, and future growth.
It can be said that he is somewhat of an IPv6 preacher of in the region.