Senior Network Engineer, Workonline Communications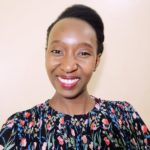 Michelle Opiyo  has over 10 years of experience in the Network Services Provider Industry. She attained her BSc in electronic and computer engineering from the Jomo Kenyatta University of Science and Technology.
Michelle currently serves as a Senior Network Engineer at Workonline Communications. Prior to joining Workonline, she served in various capacities at the national research and education network of Kenya (KENET) where she operated the core network and delivered tailor-made solutions to top Universities and Research Institutions.
Her core skills are in network design, implementation and operation, capacity building and community development. She is passionate about developing the African Internet connectivity landscape and opening it up to the world, as well as developing the abilities of engineers on the continent. To this end, Opiyo volunteers as a trainer for various regional technical forums and network operator groups (NOGs) where she trains and mentors engineers.
Michelle is a member of AfPIF Program Committee.