Executive Director, Burkina Faso Internet Exchange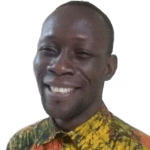 Jean-Baptiste Millogo (JB) is an Internet infrastructure expert. He serves as Network Architect at Orange Burkina Faso since 2013. In 2018, he became the Executive Director of the Burkina Faso Internet Exchange Point (BFIX). In his professional career, JB worked as a Regional Information Technology and Network Manager for Central Africa and the Great Lakes region at Agence Universitaire de la Francophonie (AUF) from 2004 to 2013. With AUF, JB spent around 10 years building digital campuses and ICT infrastructures for various African Universities.
In the domain of the Internet ecosystem, JB is a founding member and of the Internet Society Burkina Faso Chapter and chaired its board from 2015 to 2020.JB holds a master's of science degree in computer science with a major in network design and security from the University of Reims in France.