Regional Bureau Director for Africa: Internet Society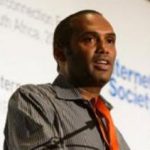 Dawit Bekele is the Regional Bureau Director for Africa at the Internet Society.
Prior to joining ISOC, Dawit worked at Addis Ababa University on teaching and research positions in computer science, since 1994. He also established and managed for more than 4 years a private company that provides Internet related services. Moreover, in the last ten years, Dawit has worked as a consultant for major international organizations such as United Nations Economic Commission for Africa (UNECA), United Nations Educational, Scientific and Cultural Organization (UNESCO) and the World Bank. His activities enabled him to travel around Africa with a large number of Information and Communication Technology professionals of the continent.
Dawit is an Ethiopian citizen living in Addis Ababa. He received his undergraduate, Masters and Ph.D degrees from Université Paul Sabatier in France, all degrees in Computer Science.