Network Engineer, Hurricane Electric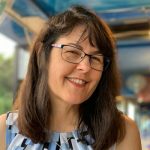 Susan Forney is a network engineer at Hurricane Electric Internet Services, which operates the largest IPv6 backbone in the world in terms of number of connected networks.
Before joining Hurricane Electric, she was the principal network engineer at the Markley Group, where she developed and operated the Boston Internet Exchange. She was a principal network engineer and architect at at the Microsoft Corporation for 15 years, and also worked as a network engineer at Starbucks and the Boeing Company.
She is a member of the Board of Directors of the North American Network Operators Group (NANOG).