Senior IP Resource Specialist and Policy Liaison, AFRINIC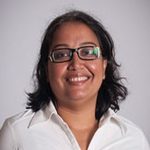 Madhvi Gokool currently holds the position of Senior IP Resource Specialist at AFRINIC and also acts as the Policy Liaison. AFRINIC is the Regional Internet Registry for the Africa service region. Madhvi is well versed in the areas of Policy Development, Internet Number Resources management and trainings.
Since 2015, she has started participating in key national and regional events in Africa to conduct outreaches targetted at AFRINIC and potential Resource members. Prior to joining AFRINIC in 2010, she worked in various positions in the team responsible for interconnecting business units of a service provider in Mauritius.